The Hyder-Ally vs. the General Monk
From an original oil painting at the U.S. Naval Academy
Joshua Barney was captured by the British while serving in the Continental Navy. He and his shipmates were kept on board in 3 foot high boxes for 53 days with minimal food and water. Upon arrival in England, he was imprisoned, but escaped with the help of a friendly guard. He returned to the Colonies to captain the privateer Hyder Ally, where he gained fame by tricking the British General Monk. As the two ships drew near, he shouted to the General Monk "Hard-a-port your helm," but had instructed his helmsman to do the opposite. The ships collided as planned, and Hyder Ally lashed her prize alongside.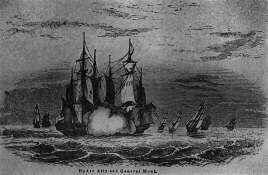 This image is a reproduction of an oil painting depicting the battle between Joshua Barney's ship Hyder-Ally and the General Monk, under the command of Captain Rogers of the Royal Navy. This engagement took place on April 8, 1782 at the mouth of Delaware Bay, and established Commodore Joshua Barney's reputation as a naval hero of the Revolutionary War (he was 26 years old at the time).
Four men on the Hyder-Ally were killed and another eleven were wounded. The toll onboard the General Monk was much greater; twenty men were killed, another thirty-three wounded --- every officer on board, save one midshipman, was a casualty.
"This action had been justly deemed one of the most brilliant that ever occured under the American flag. It was fought in the presence of a vastly superior force that was not engaged, and the ship taken was in every respect superior to her conqueror."


--- from Cooper's Naval History
This picture was scanned in from the book, Commodore Joshua Barney, United States Navy, by William F. Adams, 1912. You can probably find the book in a good genealogical library if this one doesn't come through clearly.
The original of this picture is an amazingly beautiful oil painting which hangs in the museum of the U.S. Naval Academy in Annapolis. The flames are painted so brightly that it seems to light up the entire room.