The Maryland Federalist
The Maryland Federalist was built in 1987 for Maryland's celebration of the bicentennial of the U.S. Constitution. She is a full-sized replica of the 15-foot ship, Federalist, which was built by the merchants of Baltimore to celebrate Maryland's ratification of the U.S. Constitution on April 28, 1788. Three days later, Baltimore held a huge parade and picnic in honor of the ratification, and the tiny ship Federalist was the centerpiece of that event. Symbolizing the Ship of State and rigged with seven sails in honor of Maryland's place as the seventh state to ratify, the Federalist was pulled through the streets of Baltimore on a horse-drawn cart.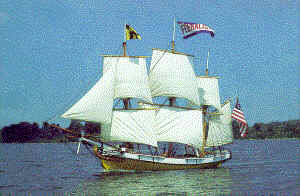 The idea for celebrating the ratification with a tiny ship came from the city's naval hero, Captain Joshua Barney. One month after the gala parade, Barney set sail from Baltimore in the Federalist bound for Mt. Vernon. After sailing down the Chesapeake Bay and up the Potomac River, Captain arrived nine days later at Mt. Vernon where he presented the Federalist to George Washington as a gift from the grateful citizens of Baltimore. Sadly, Washington's diary notes that the little ship sank in a violent hurricane six weeks later.
The new ship, Maryland Federalist, has seven sails like the originial and proudly displays other Maryland symbols. She is painted in the colors of the Maryland flag: red and white and black and gold. On her trailboards are the leaves and acorn of the Wye Oak, the state tree, and on her bow is the Black-eyed Susan, the state flower. On her transom is a beautiful carved American eagle. From her foremast, she flies the Calvert banner, which is now incorporated into the state flag.
The Maryland Federalist was built with private funds raised by the Maryland Federalist Foundation. On July 1, 1988, the Foundation turned the ship over to the Maryland State Archives. The Rotunda of the State House is the permanent home of the Maryland Federalist for most of the year. When the ship is not in the State House, she can often be seen at BWI Airport.